Submitted by
admin
on
Tue, 02/28/2017 - 14:53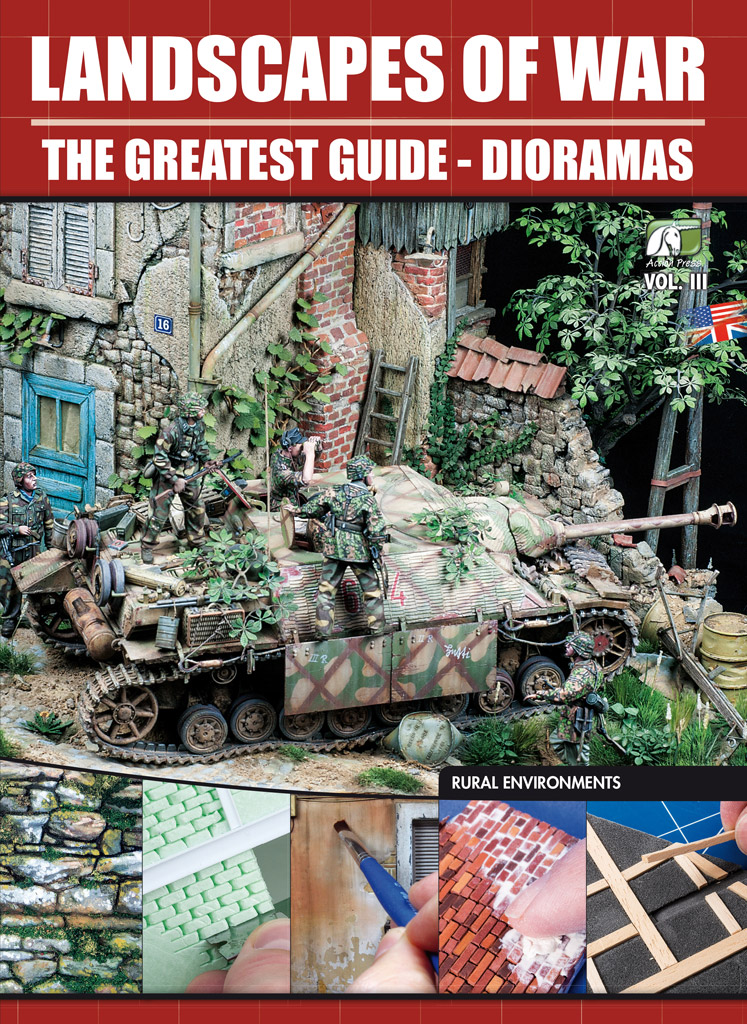 Accion Press just released its 3rd volume in the series dedicated to dioramas creation. This new number is focused on the rural environment. As usual 2 editions are available: English or Spanish.
Printed on 160 pages, A4 format, quality paper.
You can buy it online, with a special discounted price of € 26.50 at  http://www.euromodelismo.com/shop1/en/books-english/697-landscapes-of-war-voliii-rural-enviroments-english.html
In previous installments of the "Landscapes of War" series, we've reviewed the most important natural landscapes of WWII. We invite the modellers with this third installment of "Landscapes of War" to take a trip through the most important rural scenarios of European WWII. This book easily explains the use of the new materials which are easily available to the modeler for building realistic looking dioramas following the step by step processes described.
The force and beauty of the rural world still survives in our days and it has not been neglected by a group of people who enjoy realistic representations and hyper detailing work. The modeler or the modern romantic, thanks to the techniques and materials currently available is perfectly capable of faithfully portraying these scenarios and landscapes where WWII took place. And that is precisely the motivation behind this book where modelers from three different European countries get together in order to portray the most important rural scenarios of WWII. But along with this purpose, what makes this book so special is the wide range of new materials and tools employed and reviewed for the execution this kind of work. This third installment of "Landscapes of War" can be seen as a small treatise of European architecture on one hand and as a practical encyclopedia for building dioramas on the other hand. This book deals with extruded polystyrene, balsa-foam, foam cardboard, wood, Plasticard and different brands of putty (Duro, A+B, SuperSculpey, Magic Sculp) and the exhaustive step by step processes explaining the nature of this work.
Curiously enough, each author has chosen to portray the buildings foreign to their own environments, so Frederik Astier (French) has made a German scenario, Volker Bembennek (German) has chosen a French scene, Javier Redondo (Spanish) has created an Italian building and Robert Doepp (German) makes a pretty standard bridge scene. All the works featured were made in the 1:35 scale with the exception of the last one mentioned that was made in the 1:6th scale.
Index (English language)
2.- Sniper
Germany- Spring 1945, por Frederik Astier 
44.- A Vehicle-Vignette in Large Scale
Displaying the 1/9 Scale Zündapp KS 750, by Robert Döpp 
62.- Solid Brick Wall
With mold to create brick to brick 
70.- Working with Styrodur
Buildings and bases for dioramas, by Volker Bembennek
94.- STONE WALLS
Different ways of making stone walls 
116.- THE LONG AND WINDING ROAD
II Korpus Polski, Italy 1945, by Javier Redondo
150.- Biographies 
158.- Thematic index